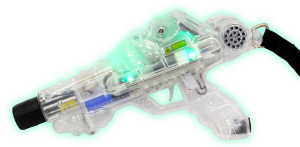 Laser Tag Parties
Nights                       5.00pm – 7.00pm
Minimum 15 People         Ages from 7yrs
2 hours of Private Fun! Approximately 1 hour of Laser Tag games (minimum of 4 games)
The night is always full of fun with the laser tag. Navigating through the maze to score off your opponents. Games can be set for single scoring or teams games and there is a constantly updating scoreboard to check for each one.
A laser tag game means stealth and concentration and a whole lot of laughs. This game is fun for the adults too.
We have 16 lasers, so if you have any more in your party we just rotate through the games. We can lengthen or shorten the game play time depending on the size of your party to allow everyone a few games each. Children who 'sit out' one game are usually happy to act as a lookout for their friends and still go up into the maze area with them.
Choose Your Pack

Pack 1 – $26.00pp
Pizza Slices, Garlic Bread and Hot Chips
Jugs of Cordial and Water
Pack 2 – $27.00pp
Party Pies, Sausage Rolls, Cocktail Frankfurts, Nuggets
Garlic Bread and Hot Chips
Jugs of Cordial and Water, party hats and lolly bags are included in both packs.
Healthy Extras for Party Food – Kids Fruit Platter – $15.00
Please note –
Playmaze does not supply any Birthday Cakes  –  An Ice-cream cake will incur a surcharge of 50c per child (normal cakes are ok)  –  All parties require a $50 non-refundable deposit – Prices are subject to change.
Please remember your socks!